Reading Time:
4
minutes
VMware vSphere Virtual Lab is an integral part of my daily professional life. It helps you test new technologies, simulate scenarios happening in the workplace, and make stress-free mistakes.
It depends on what you want to learn and succeed. Setting up a virtual lab can be as simple as using a VMware environment or Hyper-V workstation on a client computer. Of course, it can be much more complicated if you use dedicated virtual machines, virtual networks, and backup equipment.
You can access the labs 24/7, and there are no fees. However, you will need to create a VMware account before accessing them. Creating such an account is free. You may think that because labs are free, they are just clickable demos.
It is not the case in the case where VMware Hands-on Labs is the exact VMware software installation you interact with, just as you would in your lab or production environment.
VMware ESXi enterprises
VMware ESXi is the leading software-defined data center server hardware virtualization solution used today. Today's company faces the challenge of continuously delivering new applications facing customers while overcoming the growing changes and complexity in their IT infrastructure.
Because VMware ESXi is the market leader and innovator in inventing features like vMotion, svMotion, DRS, and HA for most developers and needs vCenter server appliance administrators to test, learn and install ESXi.
Enterprise IT organizations maintain complete visibility and cost control while allowing developer and testing teams to independently provide virtual labs and easily copy and share complex environments across global cloud regions to enhance agility permanently.
For efficient management, import, deployment, and deactivation of on-demand environments that contain everything needed to speed up the software life cycle without unnecessary cost and project delays due to manual configuration and dependencies, you should consider using a third-party backup software partner to keep your critical data safe.
Where to Find the Best (Free) VMware Labs
Keeping up with the latest VMware technologies can be a challenge. Often, you find yourself downloading new versions of software, seeking a license key, or using free trials and installing hardware that costs a small fortune. And that's before you get your electricity bill and annoy the family with the loud fans on your servers. Yes, home labs can sometimes be a tricky solution.
That's why vendor host labs can be manna from heaven if you can find them for the necessary technology. Newly, VMware provided free labs to test their software without having to download software, obtain licenses, or purchase hardware.
You can try out almost any VMware software solution, as well as recently released cloud services, including:
VMware Cloud on AWS
vSphere
PowerCLI
NSX
vSAN
Wavefront
vRealize Suite
Why VMware Labs
Here are the main reasons why you should consider using VMware Labs instead of your setup:
VMware Labs are free
There is no associated cost of running hardware in your garage to run the software. There are no licensing costs. Plus, you can extend the time limit until you have completed your testing or learning experience.
Study VMware certifications more effectively
VMware continues to lead the virtualization market despite increasing competition in recent years. That makes VMware certification a wise investment. And by providing free labs, VMware provides your resources to help you succeed in your certification journey.
Applying your knowledge through VMware Labs shows you a deeper understanding of the real world. Gaining experience with VMware products will help reinforce what you have learned through video training or textbooks.
There is little or no waiting time
VMware Hosted Labs is available 24/7. Once you have a VMware account, you can activate it. There is no need to make an appointment or register to use the labs. Some popular labs only take a few minutes to load, a small sacrifice if you do not ask us. Setting up your lab will take significantly longer.
Create demos that do not break
If the lab you have built breaks down, you may spend hours repairing it instead of spending precious time preparing for the exam. With free labs, even if you run into problems, you can reset them by clicking and going straight back to where you were.
It puts a time limit on your learning. Unless you pay a lot for licenses, your labs will be on trial for 30 or 60 days. Free labs can be replicated anytime without worrying about these time constraints.
Test new cloud services
You can test and learn the latest VMware cloud offerings without subscribing to them. With most cloud services, you can not install them on your hardware. Traditionally, you had to subscribe to train or test things. With VMware Labs, you can open the lab and access the service whenever you want.
Steps to build a VMware Workstation virtual lab – VMware lab setup operating system
Install VMware Workstation on Windows
Set up the Basic settings
Network types and settings
Create a Windows-based virtual machines
Install VMware Tools on Windows virtual machines
After installing VMware Tools, now you need can automatically update VMware Tools on a Windows virtual machine
Create a Template virtual machine
Clone a VM from a template
Create and manage snapshots
Add new network adapter to the virtual machine
Add new disk to the virtual machine
Extending disk space
Automatic user login to Windows virtual machine
Accessing the VMware Labs
Accessing VMware Hands-on Labs (HOL) is easy. Go to https://hol.vmware.com and select Start. After loading the main HOL interface, search for the desired lab, use the categories on the left panel, and choose Register.
You will be asked to log in from there, and the lab will start. There are several types of labs available. If you want to test your skills, use Challenge Labs. If you want a quick overview of the VMware solution, Lightning Labs takes about 30 minutes.
After entering the lab, adjust the screen resolution and maximize the screen. Read the lab manual to get the most out of your lab experience.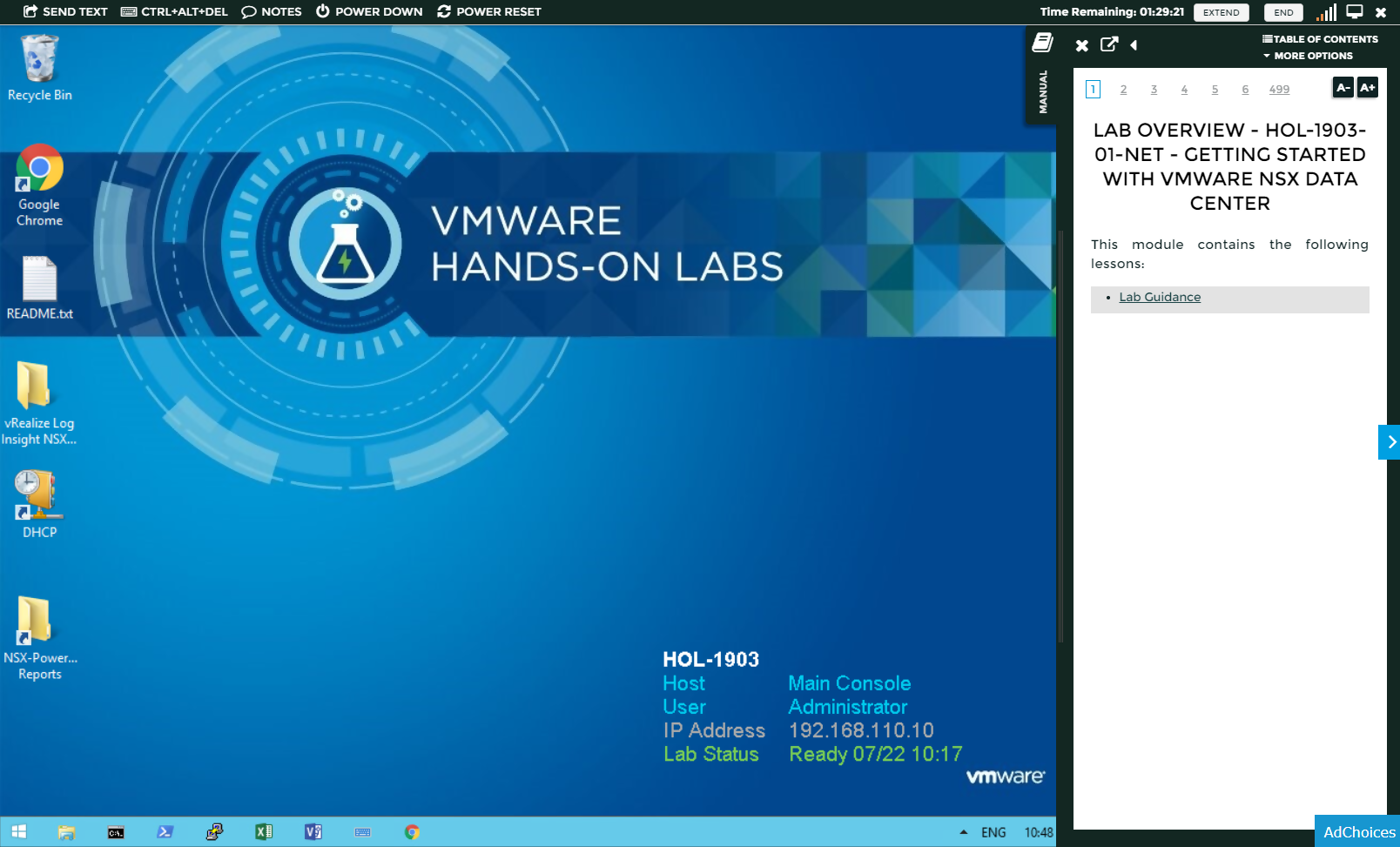 Conclusion
We are looking forward to more pieces of content coming its way once our customers' needs are exaggerated. If you need something you can install yourself and experiment with every possible feature, you might need to invest in your hardware.
If you need a free, rapid way to access VMware software for training, then the VMware Hands-on Labs are for you.