Reading Time:
4
minutes
In order to get familiar with how to increase disk space in Linux with VMware, you need to know that you can perform this act in multiple ways. When doing a standard Linux installation on a VMware virtual machine, the installation process typically allocates all of the available virtual disk space in Linux with VMware file system and swaps partitions.
When it comes to Linux VMware virtual machines, it is usually a better performer as a virtual machine compared to other operating systems. Even if you are hesitant to install Linux on bare metal, you can try to set up a virtual machine that can work as you would expect on a physical device.
VMware is both easy-to-use utility. Yet, for your protection, we recommend performing these steps on a temporary virtual machine to familiarize yourself with the process. Once you've learned the concept, you can create a backup of your primary virtual machine to avoid data loss.
Increase disk space in Linux VMware virtual machine
First and foremost, you must turn off your VMware VM before increasing the disk size. It is because you created partitions, created a virtual disk, and installed a guest operating system (OS) on one of the partitions on the same virtual disk.
Subsequently, as you work, you realize that performance is suffering because there is insufficient disk space. Short disk space on the system primary partition table degrades performance.
With VMware Virtualization Software that provides flexible options for configuring virtual hardware such as CPU, memory, and disk devices, you can expand the size of an existing virtual disk.
Nonetheless, you have to resize the partition manually after that. Disk space as a logical volume added after booting a virtual disk is unallocated.
In VMware, we are able to increase the disk space by selecting the virtual machine settings.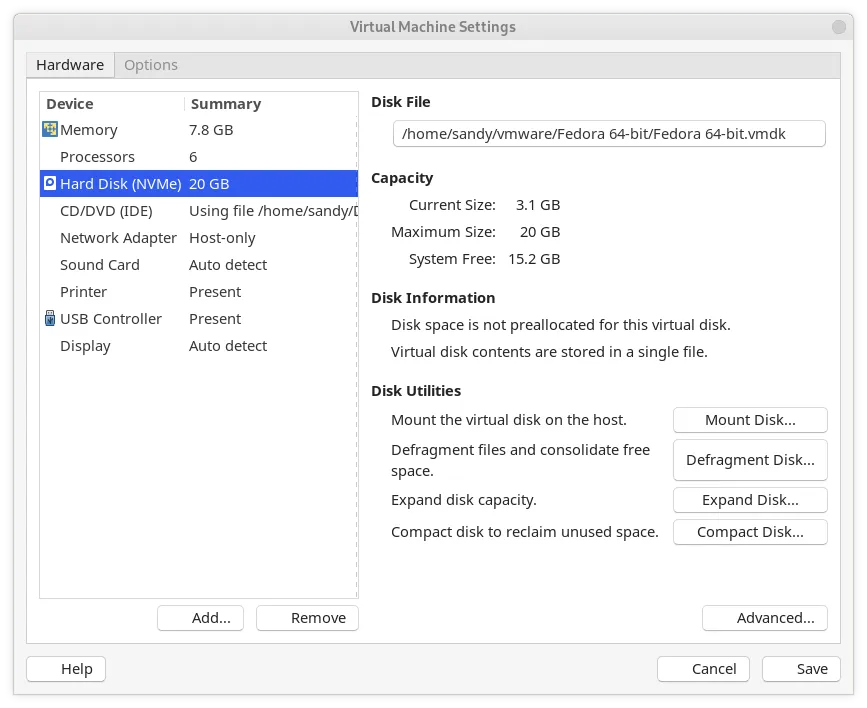 In Hardware > Hard Disk, click Expand Disk. And there you go!
Increasing the VM disk size does not change the filesystem on that disk. You need to connect to the command line of the Linux VM via the console or putty session and log in as root. Therefore, you need to increase the size of a disk partition.
Prerequisites
Some conditions must be fulfilled before you can resize the virtual disk and the partitions on that disk. The virtual disk size can be increased while the virtual machine is running.
Still, you may need to restart the VM for the operating system to detect the changed disk size. To be able to change the size, the virtual disk must not have snapshots. If your virtual machine has snapshots, delete them before resizing the virtual disk and adjust the disk partition size.
It is best to back up your VM before performing disk operations. Changing the disk partition size can be risky if you make a mistake during the configuration process.
Increase storage on your virtual machine
The Virtualization Control Center VM can be efficiently broadened by right-clicking on it, then selecting Virtual Machine Settings. Choose the virtual hard drive you prefer to expand on in the list, click the utility button, and click Expand. Select the Expanding button to expand a larger area of larger maximum disk size.
Using LVM
If your Linux installed on a VM uses LVM to handle disk volumes, you have at least two alternatives for disk management when increasing the size of a virtual disk.
Extend the size of an existing virtual disk
Create a new partition which is a partition type that must be Linux LVM with the ID of 8e on an extended disk. Then you need to add this partition to an existing volume group and extend the logical volume with the new partition. If MBR is operated, the maximum number of primary partitions is 4.
Add a new virtual disk
Create a partition on the new virtual disk, and after that, add this partition to an existing volume group, and augment the volume group by using a new LVM partition on a new virtual disk.
Changing the VM configuration and increasing the size of the second disk can cause it to expand. Remove all existing recordings if the option is already gray. We think the Linux kernel does not know about disk resizing.
Linux terminal command
This method of checking disk size will only work if you are on a Linux system installed in your VMware. For that, open the VMware workstation and then Power on your virtual machine. Open your terminal and type the following command in your Linux terminal:
$ df -h
df – it gives you an overview of your filesystem disk space, how much each partition occupies, and how much space is left in your machine.
h – this syntax is defined along with df to get an output of disk Size in a human-readable format.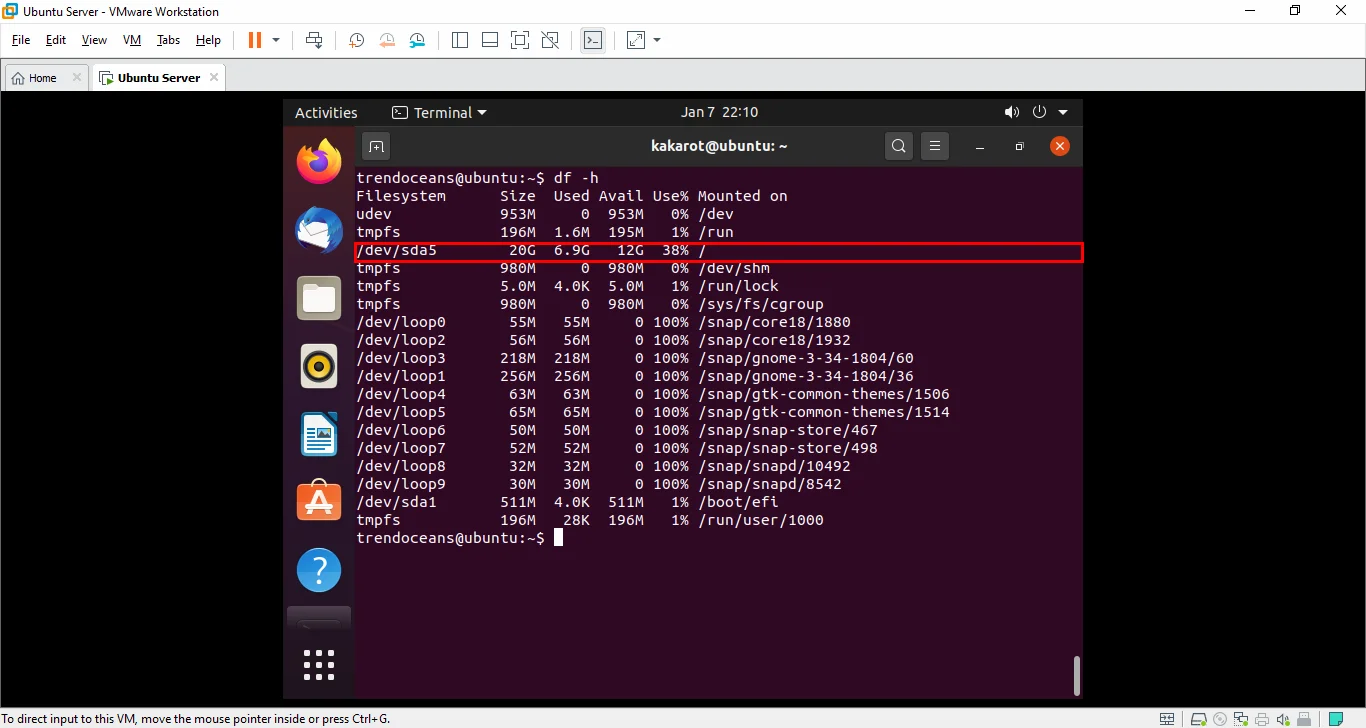 Only note the partition's disk size, which is mounted on (/) as shown in the above image. (/) is for the root partition, at the top of all other partitions. Now you know how much disk space is assigned in your VMware machine time to increase it.
Increasing hard drive space In vCenter
Seize the ESXi host off the host so the vCenter server can be turned off;
For unavailable VM, switch to a host that allows that;
Go to the VM window by right-clicking;
Go to Settings and select Edit;
Go to Virtual Disk and click on it;
Make sure you are deleting all data from the disk;
The VM needs power;
Make sure that it is connected to the Internet.
Conclusion
It is worth stating that operating Linux on a virtual machine may not be an intimidating task, but there are a few tips that you should keep in mind. The virtual machine performance will rely on your host system.
If you do not have enough system resources to distribute, the virtual machine experience will not be satisfying. The user experience with Linux virtual machines varies with the program you use.
This helpful article was about how to increase disk space in Linux with VMware to solve your disk space challenges.