Reading Time:
5
minutes
There are several ways to change the ESXi host server configuration and domain name. Some IT teams change the settings to suit their data centers, while others do it for aesthetic purposes.
And while VMware administrators have more options for VMware customers, they are suitable for any data center.
From time to time, you may need to rename a VMware ESX host. However, this is relatively simple in ESXi via the Direct Console User Interface (DCUI). A few more steps are involved in making this change in ESX through the Service Console (SC).
The vSphere Web Client uses Adobe Flash to manage the central infrastructure. It is presently the only tool to sustain all features and functions and can configure any aspect of an ESXi host.
The vSphere Web Client, as such, cannot quickly configure tasks such as changing the hostname server and Domain Name System (DNS) configuration.
This post is a quick overview of different ways to change the hostname of an ESXi host. There are various ways we work and more tools we use. We don't always have the chance to use the tools we want or access the server room or console.
Change ESXi host name in 3 different ways
A dedicated hostname is created for each email, FTP, and database to ensure that the data transfer and management network process is complete. Each person has a dedicated hostname, which must be specified in some site settings.
If the hostname is not defined correctly, problems will occur in the system, the database, and the host. These disorders include obstruction of information transmission and even slowness of operations.
As a follow-up to this article, we will introduce you to 3 different methods of changing the hostname in ESXi.
Method 1 – Change ESXi hostname with Host Client
It should be cited that VMware ESXi Host Client is currently in the procedure of installing ESXi. First, you need to install an additional Vib to achieve this feature. And then, you can access the host client through your web browser, and you don't need any other software.
VMware ESXi installation network settings of the virtual machine are enabled to access directly to the vSphere Web Client. As additional software to the only client, you might need a vSphere Flash-based Client of the DHCP server.
Now, let's proceed on to how to change the ESXi hostname with Host Client: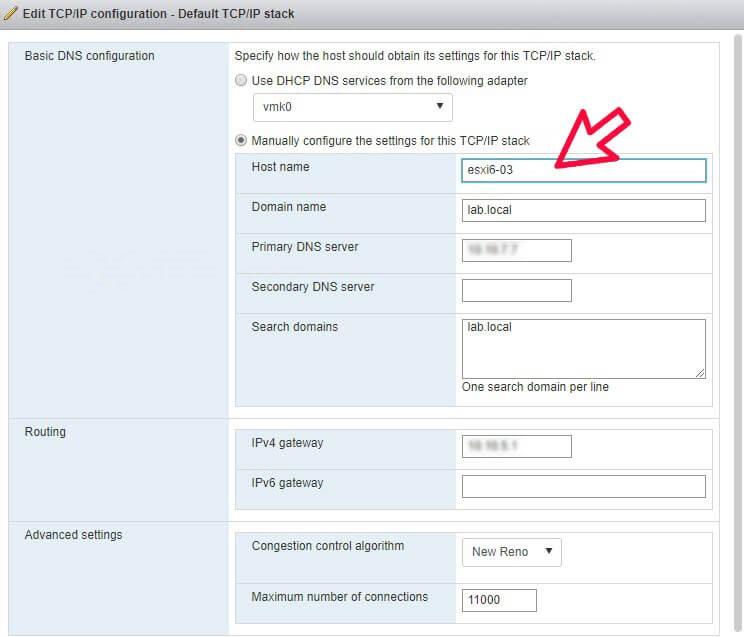 The VMware Host Client is described as an HTML5-based client embedded in each ESXi host and can only manage a single host. Because you are connected to an individual host instead of a vCenter Server, you do not have an overview of all ESXi hosts. This client is still in development.
Method 2 – Change ESXi hostname with SSH or direct console
Using this method requires SSH to be enabled. Note that to enter the remote control in the console window, you must enter the following command:

And that's it! Up to now, we have had to do the configuration one by one, but you will see that it is possible to do it in other ways where you can use more TAB plugins for Putty and do the configuration faster. We can also duplicate sessions via the File menu. Choose View > Duplicate. The session will inherit the credentials and script from the source session.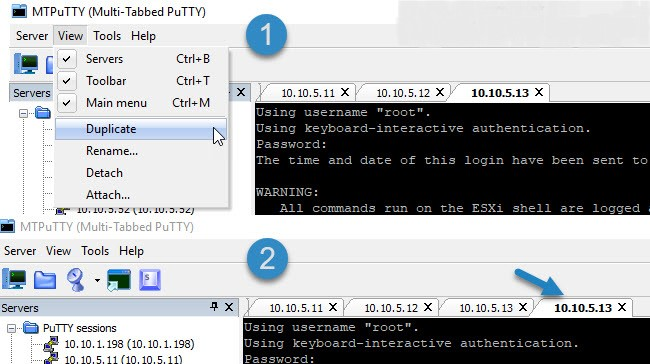 You can connect to the vSphere Web Client and the Windows-based vSphere Client, and you can also click to ESXi via Secure Shell (SSH) and use command-line tools to change the hostname and configuration of the DNS server.
The most prevalent of these tools is the PuTTY SSH client. It is relatively easy to rename an ESXi host and change the DNS server configuration, although not every VMware client delivers this functionality.
The vSphere Web Client is the only vSphere management tool that authorizes you to do this. But the HTML5-based vSphere client probably isn't far behind in capability. DNS servers require an IP address that can easily be affordable for VMware admins to run their virtual machines via the default gateway.
vSphere indicated a decisive move away from the Windows platform, so it is suspicious that VMware will concentrate on creating the vSphere Client entirely functional in the future significant vSphere features.
Method 3 – Change ESXi hostname with vSphere Web Client
The final of the top 3 ways/methods to change the hostname is to use the vSphere web client. Remember that this is the best client that presently lets you handle all vSphere infrastructure configurations.
Therefore, it should be documented that Flash-based clients are slow and, in some cases, can be very buggy. In this manner, you need to follow these steps in order:
The first step is to connect via the vSphere web client;
Second, you need to scroll to Host >> Configure >> Networking >> TCP/IP configuration and select it;
And third, select the Default System Stack and click on the Edit icon.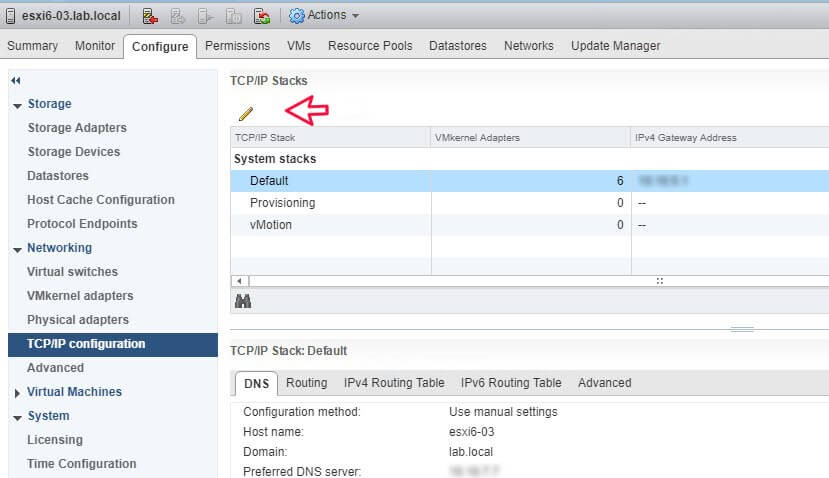 5 Steps to configure an IP address and host name in vSphere ESXi
Log in to the VMware ESXi Direct Console User Interface (DCUI). After installing the ESXi server, you will be presented with the DCUI interface;
After successful login, the System Customization setting will be displayed. It is where you can set the ESXi server's IP address, hostname, and other network settings;
Under the IPv4 configuration options, there are three options to choose from;
Then, you will be taken back to Configure Network Management Options;
This final step will take you to Configure Network Management Options, and there you can set up your IP address and hostname in vSphere ESXi.
Conclusion
There are several other ways to change the hostname, and different tools can be used to make this change. It is crucial to ensure your DNS server has good records before changing hostnames.
This article on your favorite VMware-ESXi.com blog examines the top three ways/methods to change the hostname in an ESXi host. The strategies mentioned in this article are straightforward to change the ESXi host name.