Reading Time:
5
minutes
After installing ESXi, you need to complete some initial ESXi configurations of the installation, i.e., to configure ESXi. After rebooting, the server's Direct Console User Interface (DCUI) is displayed. The splash screen shows essential information regarding:
hardware (CPU and memory)
ESXi build number
IP address etc.
VMware ESXi uses approximately 2 GB of space and 1 GB of RAM, as it requires a 64-bit x86 processor, 2 GB RAM, and at least 1 GB network card.
A free version of ESXi is available, but it does not have many of the features of the licensed version. And remember to always check your compatibility system before proceeding.
Configure vSphere networking for ESXi hosts
If you have made separate VMware vSphere 7.0 clusters for management and computing, perform this operation on each ESXi host in the control cluster.
It is instructed that you configure a virtual distributed vSwitch (VDS) for production environments. Configure VDS from the vCenter Networking tab and add ESXi hosts to VDS. If you did not create distinct vSphere clusters, perform this operation on each ESXi host in the cluster.
The VDS configuration settings are similar to the VSS configuration described below. For instructions on configuring VDS, see Create a distributed vSphere switch in the vSphere 7 documentation.
System Configuration
Several other options are under that regarding System Configuration, most of which are self-explanatory. Some good things you need to know are:
Configure lock mode – Allows only local root logins and requires vCenter.
Restart the management network – When the virtual machine does not respond or has other problems, this is a great place to start troubleshooting as it restarts the network interface.
Disable Network Management – Network disconnection will not affect local virtual machines.
Reset to standard switch – Relevant only if you use a distributed vSwitch; this switch forms a virtual network adapter and pushes the network from your distributed switch to a standard vSwitch.
View Support Information – Select this to view the server's serial number, license number, and thumbprint of the Secure Shell.
Troubleshooting – From here, you can enable/disable the local command line and the SSH remote command line, set the command line expiration length, and restart VMware agents.
Installing ESXi
At the very start, to install VMware ESXi, you need to do is sign up for a license or download it from your current VMware account and then download the ESXi ISO file and burn it to disk. VMware ESXi installation process requires ESXi installer to select configure management network.
Boot from this CD to the server on which you would like virtual machines to run. When the installer appears, you need to press enter to display the licensing agreement. Press F11 to accept and select the ESXi installation disc.
Accept the warning that your disks will be partitioned again. You will then remove the disc, press F11 to install, and when done, and then press enter to restart the machine. To install ESXi, you have to restart management network.
After installing and activating ESXi host, you should get the following screen: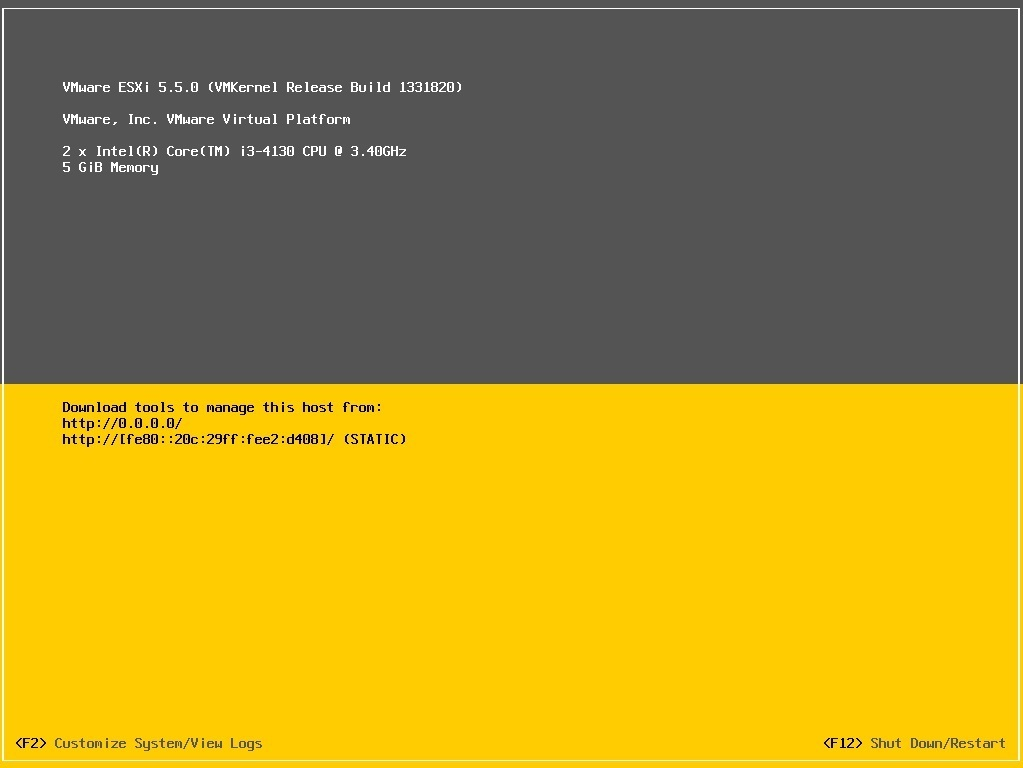 Then press F2 to access the configuration screen. You will need to provide the administrative login credentials you set up during the ESXi installation: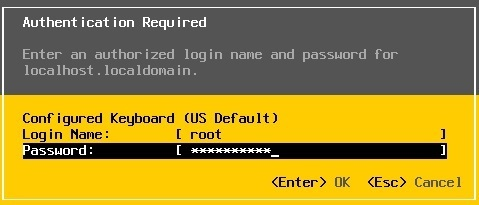 ESXi configuration
Before you start building virtual machines left and right, you must configure ESXi. After restarting your server, press F2 to start the Direct Console User Interface (DCUI).
By default, "root" is a passwordless username. Once logged in, press F2 to see the system setup menu and press Configure Password to set a password.
DCUI is crucial to the setup process because, until now, you may not have network access to the ESXi host. This interface allows you to establish that fundamental connection to move forward.
You may need to set up an IP address, VLAN, or other connection configuration. To log in to the DCUI interface, press F2 Customize System/View Logs, where you will be prompted to log in with the root account specified during the ESXi installation.
Once logged in, you will see the System Customization menu, where you can set up most of the primary network configurations, turn on troubleshooting options, and view system logs: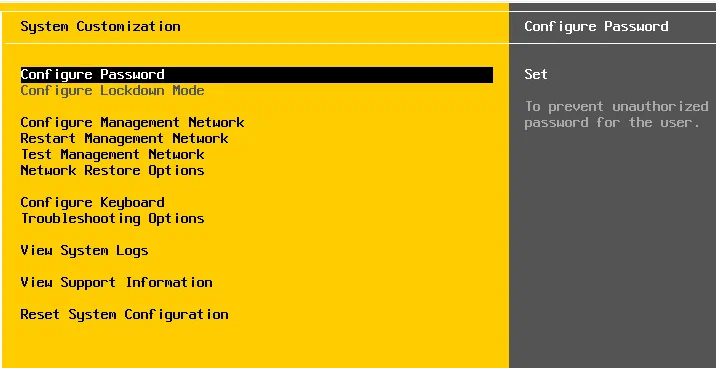 The next step is to select Configure Network Management. You can choose Network Adapters and VLANs and configure IPv4 / IPv6 addresses, DNS, and custom extensions:

Returning to the main system setup page, you can set a network address for the management network. This will be the connection address for the vSphere client to complete the ESXi configuration: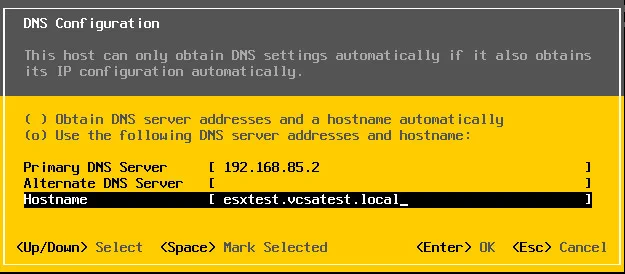 Once you have completed the desired management network configuration, the management network needs to be restarted to make changes. When you press ESC to exit the Configure Network Management screen, you will be prompted to restart the Network Management: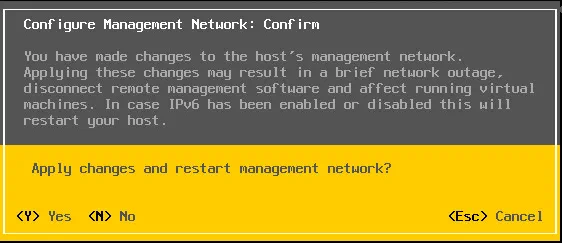 After you complete the configuration of VMware ESXi, you connect to your ESXi host to finish out the VMware ESXi configuration by including setting up storage and licensing.
ESXi Management Network
After installing ESXi, it is necessary to configure its management network. The management network configuration is related to the VMkernel interface.
Think of it as a virtual network interface for VMkernel. If your network management is VLAN, you must configure a VLAN ID. It is also recommended to assign a static IP address for the ESXi management network.
Similar to VMs running on ESXi hosts, VMkernel will also need to connect to the network for various purposes. These interfaces act as network nodes for VMkernel. The first VMkernel – vmk0 interface was created during ESXi installation.
This interface is the management interface for the ESXi host. VMware lets you create up to 256 (vmk0 – vmk255) VMkernel interfaces on the ESXi host.
Conclusion
Configuring VMware ESXi on the installation ensures that the host is functional and ready to serve either as a standalone host or for use in the vCenter cluster.
The user interface of the direct console helps make the initial configuration changes that allow the network connection to the host.
Therefore, you can connect to the host's WebUI or VMware vSphere client to perform other necessary configuration steps, such as setting up host storage.
Once you have your network configured and root password set, it's into the vSphere client to finish the configuration.
We at VMware-ESXi.com cover how to configure ESXi as our team is dedicated to helping individuals and businesses worldwide – you should expect more to come to facilitate your operations.