Reading Time:
4
minutes
Once you have VMware ESXi installed on the server, you must add your ESXi license key through the web interface. If you download the free version of ESXi, you can get the license key by visiting the ESXi evaluation page, but you will only use the trial version, which only lasts 60 days.
When you settle to start utilizing the VMware vSphere client to run virtual machines on ESXi hosts in your area, you must define which license to purchase and understand how to apply for the ESXi license.
VMware provides different versions of vSphere and vCenter for clients that deploy VMware vSphere to run virtual machines and build virtual environments.
General info on the VMware vSphere Licensing
There are two major VMware licenses in VMware vSphere:
vSphere licenses for ESXi hosts
Licenses for vCenter Server
If you employ standalone ESXi hosts, purchase the required VMware vSphere license and install it on each ESXi host. If you have multiple ESXi hosts, it is better to manage them centrally. In this case, we at VMware-ESXi.com recommend, at first, installing the vCenter Server.
VMware vCenter Server allows you to handle ESXi hosts, create data centers that are logical structures for grouping ESXi hosts, create clusters, migrate virtual machines between hosts, etc.
VMware vCenter demands an individual vCenter server license installed on your vCenter Server. Your vCenter server version must at least match or be higher than the full version of the ESXi host running in the environment you want to manage from vCenter.
Is ESXi free for commercial use?
ESXi hosts are licensed under the vSphere license. Each vSphere license has a specific capacity that you can use to license multiple physical processors on ESXi hosts.
Starting with vSphere 7.0, one processor license covers one processor with up to 32 cores. If the CPU includes more than 32 cores, you need additional CPU licenses.
You can get a free ESXi license once and feel confident knowing it never expires. It practically means that you can use the ESXi server-free version for as long as possible.
If you need to apply for a commercial license, you can do so at any time without reinstalling your ESXi server. Open the licensing options in your VMware host VMware vSphere client and enter a new license.
How to add a VMware ESXi license key
At first, we need to register with VMware to view the license key, but you should already have an account if you have already downloaded ESXi. Once logged in, click the License and Download tab to see the key. Once you have the key, load the web interface and enter your login credentials.
When you are logged in, you will see the ESXi management interface. Also, you should be able to see a message stating that you are utilizing the software in evaluation mode that will expire in 2 months.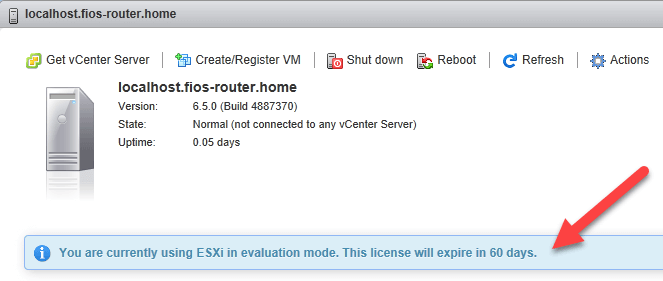 To add an ESXi license, you need to click Host Management on the left side of the Navigator. Click the Licensing tab, and then click the Assign License link.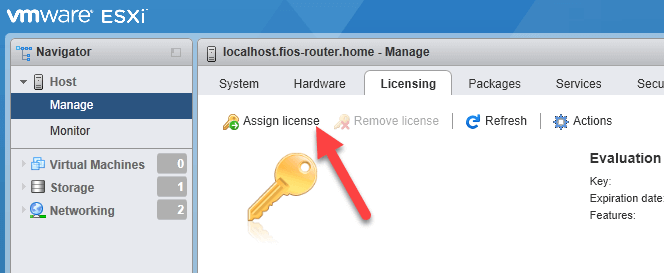 Move forward and copy and paste the license key into the text box and click Check License in the dialog that appears.
It should present you with a green checkmark and then indicate that the license key is valid for VMware vSphere X Hypervisor.
If you ever upgrade to a paid product license like ESXi Essentials, you can go back to this page, add a new license, and remove the old one. Then, click on the License, and you're done. And you are ready for your world of virtualization!
Get a free ESXi license from VMware
Although VMware provides a free license, obtaining a license key is not easy. We have to follow a few steps to get the free license key. The following list is the two most important steps to get a free VMware license.
Register and log in
To receive a free ESXi license key from VMware, we must first create an account on the VMware website. Without creating an account, we can do nothing in VMware. So, go to the VMware Customer Connection page and click on the Sign-Up menu.
A registration form will now appear. Enter the information you will be asked for in this form and create an account.
Choose a product and register
We want to download and obtain a free VMware vSphere Hypervisor (ESXi) license. VMware has many virtualization products. So, after logging in, hover over the Products and Accounts menu item and then click on the All Products link.
Select VMware vSphere Hypervisor (ESXi) from the All Products tab and click the View Download Components link. On the Download page VMware vSphere Hypervisor (ESXi), select the version of ESXi that you want to download from the Select Version drop-down menu.
Free ESXi License Limitations
VMware vSphere Hypervisor is a free product that provides an easy way to start virtualization. Provides only basic virtualization capabilities, allowing clients to virtualize servers and run VM applications in minutes.
The free licensed ESXi cannot connect to the vCenter server and, therefore, cannot be centrally managed. Users are able to remotely manage individual vSphere Hypervisor hosts using the VMware vSphere Client.
To download VMware vSphere hypervisor, you need VMware vSphere licenses with license keys to provide ESXi free license.
There are no limits on the number of physical processors per host and the amount of RAM per server/host. The maximum processor per VM is eight. So, we can summarize the limitation of VMware ESXi as follows.
There is no official support for VMware;
Maximum 8 vCPU per VM;
Cannot manage vCenter;
vStorage API is not available.
Conclusion
Running servers as virtual machines (VMs) on ESXi hosts in vSphere provides vast benefits when backing up VM data. ESXi hosts are licensed with vSphere CPU-based licenses. You can reassign licenses that have already been granted.
Host-level backup allows you to use valuable features such as agent-free backup, complete VM backup – VM data + VM configuration, VM works backup and low server load.
No matter which ESXi license you use, you should regularly back up your virtual machines to protect your data and be prepared to recover in the event of a failure.
We at VMware-ESXi.com are looking forward to bringing more about the ESXi license key as we dive deeper into virtualization.