Reading Time:
5
minutes
VMware ESXi build numbers are based on complete installations. It is a VMware Knowledge Base with all ESXi build numbers and versions. Everything related to ESXi build numbers can be found on the official VMware website: https://kb.vmware.com/s/article/2143832
It can be helpful in cases where you are looking to upgrade specific hosts and whether the version number is still supported or removed due to problems. It is the case for some of the latest builds (ESXi 7 U3b, 3a, or 3), as those versions conflicted with the i40en dual drivers.
VMware ESXi (formerly ESX) is an enterprise-class, type-1 hypervisor developed by VMware for deploying and serving virtual computers. Starting with the latest and greatest software versions is always good when starting a new VMware project or evaluating new features.
Accordingly, you need to find out what VMware ESXi, VMware vCenter, and vSphere Client are currently running and whether they are the latest version number; if not, you should consider upgrading. Almost everyone knows ESXi, but the difference between vSphere and vCenter?
People are often confused and insecure, but those answers are relatively simple. Let's go through this to clear up any doubts.
VMware ESXi
ESXi is a piece of software installed on a single physical server and allows several different operating systems to work side by side.
These operating systems are entirely separate but can communicate over the network with the rest of the world, and the other computers use on a local area network (LAN).
Operating systems run on virtual machines (VMs) where each virtual machine has virtual hardware. VMware ESXi has free and paid versions. The free version is limited, allows limited volume, and cannot be managed through a central management server called VMware vCenter.
However, the free ESXi, also called VMware ESXi Hypervisor, can be connected to remote storage where virtual machines can be created, stored, and executed.
This remote storage can be shared between several ESXi hosts but not virtual machines. Each ESXi has its own VMs, so central management of this feature is not possible.
VMware vCenter Server
VMware vCenter Server is an advanced server management software that provides a centralized platform for controlling your VMware vSphere environments, enabling you to automate and deliver virtual infrastructure across the hybrid cloud with confidence.
VMware vCenter can run in evaluation (trial) and licensed modes. The trial way for vSphere and vCenter is 60 days. During the trial period, you are able to use all features in the premium license edition combining vSphere Enterprise Plus and vCenter Server Standard.
If you grant a vCenter license, you can return to evaluation mode within 60 days of installing the vCenter server. The ESXi server is performing aid with the upgrade ESXi.
However, there are serious vulnerabilities, so organizations should patch or restrict access to the vCenter server to authorized administrators.
VMware vSphere
Furthermore, the VMware vCenter driver communicates with an image service to copy VMDK images from the Image service back-end store. On the other hand, VMDK images are cached in the data store, so the copy process is only the first time the VMDK image is utilized.
After booting a virtual machine into a vSphere cluster, the virtual machine becomes visible in vCenter and can access vSphere advanced features. At the same time, the VM is visual in the dashboard, and you can manage it as you would any other VM.
You can execute progressive vSphere operations in vCenter while configuring OpenStack resources such as virtual machines through the OpenStack dashboard. A new version release always needs an upgrade.
VMware ESX
VMware ESX is a hypervisor part of the virtualization platform. All virtualization software can include problems at some point. In vSphere, for instance, you may not be able to connect to an ESX host or connect an ESX virtualization, or error messages are displayed in vCenter, and you cannot create virtual machines.
ESX Server is an enterprise-level virtualization tool. It utilizes services that manage numerous virtual machines with more excellent reliability and efficiency than VMware products.
How to Update to ESXi 7.0.3 Build Number 19193900?
Notes on VMware ESXi 7.0 Update 3c can be found here: https://docs.vmware.com/en/VMware-vSphere/7.0/rn/vsphere-esxi-70u3c-release-notes.html
Here, in this example, we use the ESXCLI command method to continue the update, and there is no sounder resource to serve as a guide. The first step is to authorize the host SSH to operate the command. Log in to your ESXi host interface and select ESXi Host, followed by Actions, Services, and Enable Secure Shell (SSH).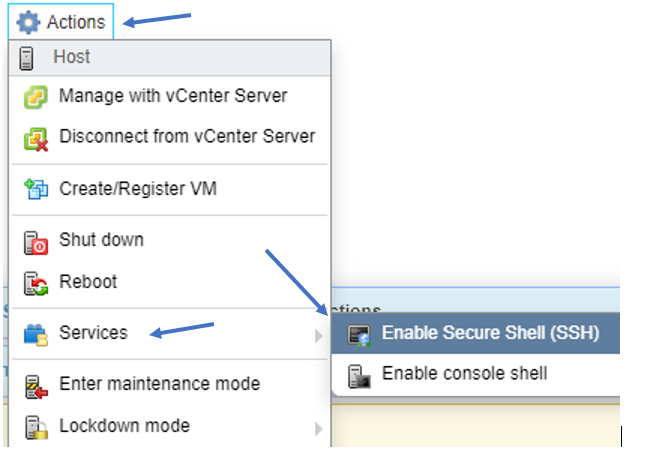 Now we include the command, but since the server is not found on the VMware Compatibility List, it triggered a No Hardware Warning alert.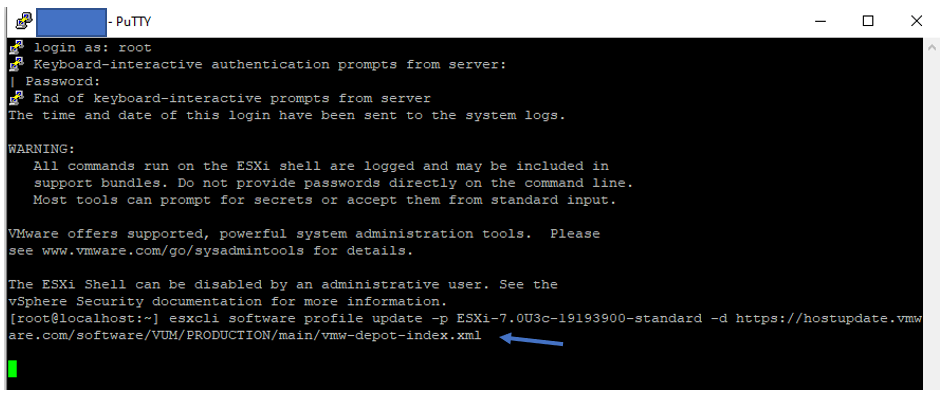 Now we include the command, but since the server is not found on the VMware Compatibility List, it triggered a No Hardware Warning alert.
Once the command is successfully executed, the update process starts, and you will then be prompted to restart your ESXi host. We were able to restart the process using the session.

Once the ESXi host is up and running, you will be able to confirm that the update is complete.
If you want to patch an ESXi host on a specific build number, it is essential to note that you need to maintain a particular number of building as standard in your environment. I have seen many people have similar requirements, which is often difficult for them. Sometimes, they patch the ESXi host to the latest build number when you want to stay in the late version.
Conclusion
By logging in to the ESX/ESXi host at the console as root and connecting remotely, you are able to see Enabling root SSH login on an ESX host (8375637). Then it would be best if you typed vmware -v and press Enter. In the end, note the build number displayed in the output.
The critical fact about the repository is it is not limited to ESXi build numbers, and you can find some other VMware products such as ESX, ESXi, VC, VEM, and vRealize Suite Lifecycle Manager.